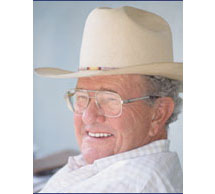 Johnny (a.k.a Johnny Jones, Big Johnny, Alphabet Jones, T.L., etc) was a native of Quanah, Texas and was known worldwide for developing major international
sires – including Nureyev, Miswaki, and Alleged. Under his direction, Walmac Farm became one of the world's most prominent stud farms, and its lush, rolling acreage a serious source of racing talent. Four Star traces back in its pedigree to over 25 years of Walmac Farm consignments, such as the ones that yielded back-to-back Breeders' Cup winners in 2003 and 2004. Walmac's impressive stallion roster comprised of three of the most prominent young sires in America, Successful Appeal, Songandaprayer and Bandini.
Sadly we lost Johnny in November of 2018. He is sorely missed by all within the thoroughbred industry, especially within our Four Star team.