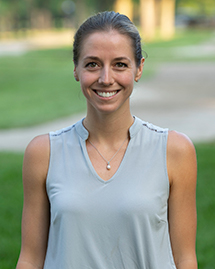 Born in Hot Springs, AR, Ashley grew up in a racing family. She was raised in Southern California where her father, Randy, was an assistant to D Wayne Lukas and her mother, Alicia, was a racing official and later a barn foreman for Lukas as well. She then moved to Florida where her father worked breaking and training horses for Padua stables and Adena Springs before going out on his own. Through her parents she grew to love the industry, especially the early mornings at the track and at the sales.
Ashley began working Thoroughbred sales in the summers during high school and developed a passion for all parts of the sales environment, from the hands on horse work to interacting with clients and prospective buyers. She spent most of her seasons working for Paramount Sales, where she gained much of her foundation and continued enthusiasm for sales. She has also worked for other top consignors including Dromoland, Hunter Valley, and Lane's End.
Upon graduating college with a Bachelor's degree in Business Administration from Birmingham-Southern, Ashley moved to Kentucky and worked a foaling season with Winstar Farm. Following the foaling season, she completed a sales season as an assistant Sales Coordinator for Hunter Valley farm. There she learned the importance of the "behind the scenes" preparation leading up to sales. She also assisted in pedigree research and client relations. She then worked as the Equine Racing and Sales manager at Baccari Bloodstock. She managed billing, breeding contracts, client relations, and sales preparation. Each of her previous employers has added a great deal to Ashley's overall knowledge of the sales business. She is excited to be able to utilize her past experiences in making a positive impact for Four Star Sales and its clients in her role as Director of Bloodstock.
Ashley thoroughly enjoys developing relationships with people within as well as outside the industry. Beyond her job at Four Star, she strives to find ways to increase others love for the sport and help people maximize their potential in the industry.