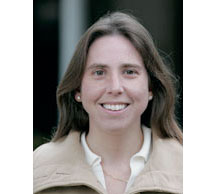 Frances grew up in San Juan, Puerto Rico. Beginning in high school, she paid her industry dues during summer vacations working in the barns at Walmac Farm in Kentucky as a novice with a passion for horses. Frances returned to Kentucky at every opportunity, gathering plenty of hands-on knowledge in the process. She later interned in the editorial department at Thoroughbred Times. After earning a Bachelor of Arts degree from Colby College in Maine with distinction in English, Frances moved to Lexington permanently.
Frances worked in the office at Walmac for many years. When the farm's sales branch merged into Four Star Sales, she divided time between both companies before forming Rough Shod LLC in 2005 to focus on matings and pedigree/sales research. Frances continues to be involved in Four Star behind the scenes and at the sales. Before each sale Frances edits and updates the Four Star catalog pages and then prepares the pedigree update books for use at each sale. She is the first person you see at the Four Star consignment, waiting on the front lines to look after owners and people coming to view horses, and can answer most questions about the horses in the barn. Her "vacations" are generally spent at Tattersalls in England short-listing or fronting a consignment.
Among the horses whose matings Frances has recommended are Breeders' Cup Sprint-G1 winner Cajun Beat and Grade 2 winners Fire Slam and Irguns Angel. She is a writer for Trainer magazine, the Saratogian and is a freelance writer for other industry publications.